Bankruptcy and Divorce: Which Should You File for First?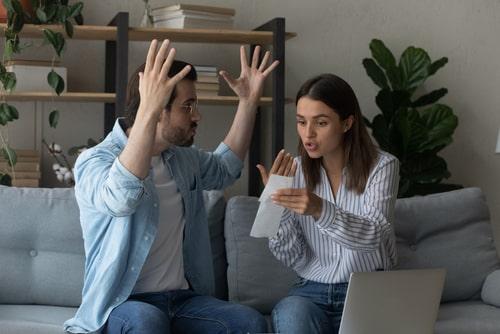 Financial issues are one of the most often cited reasons for disagreements and stress in a marriage. Unfortunately, it is also often the cause for the couple to file for divorce. Divorce can also be a driving factor in why an individual or couple makes the decision to file for bankruptcy. A couple who has made the decision to both divorce and file for bankruptcy may be unsure which legal process they should initiate first. A Rockland County bankruptcy attorney can help.
Filing for Bankruptcy Before Divorce
Last year, more than 650,000 individuals filed for bankruptcy. That was about a 10 percent decrease from the prior year. However, it is estimated that the number of filings will spike dramatically over the coming months as financial protections and assistance programs put in place due to the COVID-19 pandemic are lifted. Many people may find that filing for bankruptcy is their only option for relief and to obtain a fresh start.
A Chapter 7 bankruptcy basically eliminates the majority of a person's debt. Chapter 13 bankruptcy provides an affordable payment plan for the individual to pay back their debt within a certain timeframe.
One of the main criteria in filing for bankruptcy is the income limitations that the bankruptcy courts have in place. An individual who makes over a certain amount of income each year may not qualify for a Chapter 7 bankruptcy. If a couple files jointly before the divorce, the income limits are increased, so a person who does not qualify as an individual filer could qualify as a joint filer. This is especially true for couples where one spouse was the primary breadwinner.
Conversely, filing after divorce may make sense for an individual who could qualify for Chapter 7 on their own, but filing jointly, which includes their spouse's income, disqualifies them for Chapter 7 and they would only qualify for Chapter 13.
Bankruptcy after divorce can also protect property from creditors if that property is no longer in the debtor spouse's hands, and in the case that a high amount of financial support will be owed by one spouse to the other.
Call a Hudson Valley Bankruptcy Lawyer Today
If you are considering divorce and bankruptcy, the Law Offices of Robert S. Lewis, P.C. can provide legal advice on both. Our legal team focuses on both areas of law and can provide you with the most appropriate legal advice for your situation. Call 845-358-7100 to schedule a free consultation with one of our Rockland County bankruptcy attorneys.
Source:
https://www.uscourts.gov/news/2020/07/29/bankruptcy-filings-fall-118-percent-year-ending-june-30