Can My Past Domestic Violence Affect the Asset Division in My Divorce?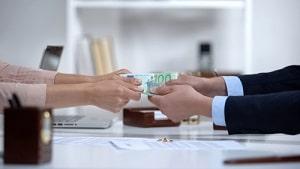 Divorce proceedings are typically complex regardless of you and your spouse's relationship. Reviewing your marital assets, considering your role as a parent, and determining how much spousal support is necessary can force you to imagine the inevitable future ahead of you. For those who have fond memories of their marriage, this process can bring up feelings of nostalgia that make it difficult to move forward. For those who had a rocky relationship, especially those with domestic violence in their past, looking back on their marriage can bring the angst from this past trauma back to the surface.
Whether it was a one-time occurrence or pattern of abuse, domestic violence can greatly impact the results of your divorce proceedings. In the past, these actions of abuse typically affected parenting plans the most. Parents with a history of domestic violence may be required to have supervised visitation of their children if they received any rights to their children at all. This past month, the state of New York expanded the impact that domestic violence has on divorce proceedings by incorporating evidence of these actions into the asset division process.
How Are Assets Divided in New York?
New York is one of the many states that follow an equitable distribution method, rather than community property division. In the equitable distribution states, marital property, or everything collected throughout the duration of the marriage, is to be divided fairly, but not necessarily equally. In other words, things will not be split 50/50 between each spouse. Instead, the court will consider a number of factors when deciding who gets what in the divorce. Community property division states divide everything down the middle, giving each spouse 50 percent of their belongings. While on the outside this may seem fairer, understanding the court's various considerations when dividing things equitably may change your mind.
Court Considerations
In New York's law regarding asset distribution, the legislation outlines the terms that must be considered by the court when dividing the marital assets. Since most marriages do not have two, equal-earning spouses, the judge will look at more than just each spouse's income. Recognizing the impact that domestic violence has on a marriage and the victim, New York has recently added this to the asset distribution consideration list. Now, if either spouse has committed an act(s) of domestic violence against his or her partner, the nature, duration, extent, and impact of the abusive actions will affect the number of marital assets that he or she is given. However, some argue that this addition may be biased since the equitable distribution process has previously been fault-neutral toward both parties. The following are a few examples of other areas that are considered by the court:
The duration of the marriage and the age/health of both parties

The income and property of each spouse coming into the marriage

The tax consequences of the asset distribution to each party

The wasteful dissipation of assets by either spouse

The probable future financial circumstances of each spouse
Contact a Rockland County Divorce Lawyer
Equitable distribution can be difficult to understand from an outside perspective. You may think that the higher-earning spouse deserves a larger cut of the savings, but the court does not see it this way. In order to appeal to both spouses, regardless of their income, the New York court system considers other factors of the couple's marriage. The Law Offices of Robert S. Lewis, P.C., has 35 years of legal experience that he uses to support his clients. Whether you have a past of domestic violence and need help obtaining what is yours, or you are trying to include your spouse's past actions in the asset distribution process, Attorney Lewis is here to help. Contact our Hudson Valley Area divorce attorney at 845-358-7100 to schedule your free consultation.
Sources:
https://www.law.com/newyorklawjournal/2020/07/24/domestic-violence-and-equitable-distribution-implications-of-the-amendment-to-drl/?slreturn=20200713094409
https://www.nysenate.gov/legislation/laws/DOM/236