How Do I Change Back to My Maiden Name After a New York Divorce?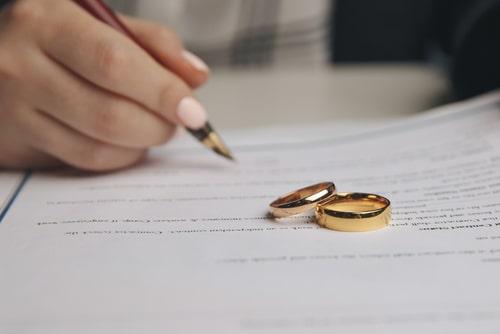 When a couple gets married, it is common practice for one spouse to take their new spouse's last name as their own. Traditionally, it was the wife who took her husband's family name, however, over the past few decades, other options have included the husband taking his wife's last name as his own or one of the spouse's hyphenating their maiden name with their spouse's name. Regardless of which spouse changed their name legally when they wed, the good news is that there is no law that bars them from changing back to their maiden name should the couple divorce.
Changing Back to Your Maiden Name
Once a resolution has been reached on any legal issues the couple may have, the court will issue a divorce decree. Included in this decree is the choice of the spouse who took on the other spouse's last name to change back to their maiden name without the need to take any other legal steps. The court will include a statement in the divorce decree document that the spouse chooses to now have their name as their legal name once again.
In some cases, however, when the decree is being issued and the spouse has the choice to legally revert back to their maiden name, they may decide not to. They may decide to continue to legally use their married name. There are a number of reasons why a spouse may make this decision, including:
The couple has children and the spouse wishes to continue to share the same last name with them.

The couple has been married for a long time and the spouse feels more comfortable keeping their married last name over going back to their maiden name.

The spouse has built a professional reputation under their married last name.
Regardless of the reason, the spouse is allowed to make their own decision. The other spouse – who's last name they are keeping – does not have any say in whether or not their now ex-spouse must go back to using their maiden name.
What If I Change My Mind?
In some cases, an individual may decide to keep their married name after divorce, but at some point in the future, decide they would now prefer to use their maiden name again. Unfortunately, this involves an entirely separate legal process. A Name Change Petition and a Name Change Order must be filed with the County Clerk's Office that has jurisdiction in the municipality you live in. There is also a filing fee that will be required. These documents must then be filed with the Supreme Court Clerk's Office who will issue the name change.
Contact a Hudson Valley Area Divorce Attorney
If you are considering a divorce, there are likely many issues you will need to work out besides just changing your name. Make sure your best interests are protected by having a skilled Rockland County divorce lawyer advocating for you. Call Law Offices of Robert S. Lewis, P.C. at 845-358-7100 to schedule a free consultation.
Source:
https://www.nycourts.gov/CourtHelp/NameChange/forms.shtml