How Is Child Support Calculated in New York?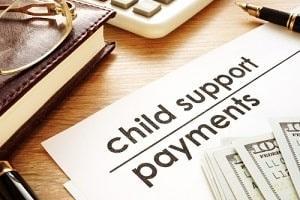 If you are divorcing and have children or have been named as a child's father but are not married to your co-parent, you will owe child support payments as per New York state law. The purpose of child support is to ensure that the children's lives remain the same quality that they would be if their parents were married and used both of their incomes to support their children. Of course, not all parents are married or remain married, and thus their incomes remain separate. For those who are the non-custodial parent, or the parent who is not the primary caretaker, you will be responsible for these monthly child support payments.
Child Support Standards Act
In order to have a systemized way of calculating child support, New York uses the Child Support Standards Act, which assigns a percentage of income owed based on the number of children — those with fewer children owe less money. Below is a breakdown of how much is owed depending on the number of children the paying party has:
1 child = 17 percent of income

2 children = 25 percent of income

3 children = 29 percent of income

4 children = 31 percent of income

5+ children = At least 35 percent of income
The parent's "income" includes more than just their biweekly paycheck. Their total earnings from which this percentage is calculated also include workers' compensation, disability payments, Social Security, unemployment insurance, pensions, and any other form of income. In addition to this set percentage owed for child support, the paying parent must also provide medical support through health insurance and financial contributions toward any out-of-pocket medical expenses that their children may have. These costs can shift if the custodial parent is working or in school. The paying parent may also be required to provide assistance for educational expenses in some cases.
What if I Have a Low Income?
It is not uncommon for child support-paying parents to struggle to make these payments on a monthly basis. As you can see, these payments can get fairly steep depending on your situation, and for those with a low-income rate, making ends meet may seem impossible with child support requirements. For those whose income is below the Federal Poverty Level, which comes to $12,760 earned for the year, their child support dues may be lowered to $25 per month and past due payments will be capped at $500. For those whose income is below the New York State Self-Support Reserve, which comes to $17,226 earned for the year, the child support owed will be set at $50 per month.
Contact a Hudson Valley Area Child Support Lawyer
Paying child support on a monthly basis can take a large portion of your income out of your pocket, especially if your income allows you to barely scrape by. If you are struggling to pay your child support each month or want more information about your obligations as a recently divorced parent, you should speak with an experienced attorney. Child support obligations change from state to state, so it is crucial that you find an attorney who is well-established in your jurisdiction. The Law Offices of Robert S. Lewis, P.C. have helped numerous families with their divorce proceedings, including the creation of parenting plans and the designation of child support obligations. For help with your child support case, contact our Rockland County divorce attorney at 845-358-7100 to schedule your free consultation.
Sources:
https://www1.nyc.gov/site/hra/help/child-support-calculator.page
https://aspe.hhs.gov/poverty-guidelines
https://www.childsupport.ny.gov/dcse/child_support_standards.html