What Are Spouses Prohibited From Doing After Filing for Divorce?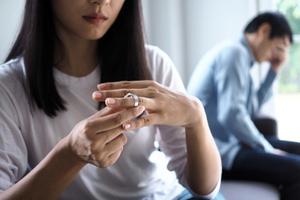 Even for those who have determined that their marriage is no longer working, the choice to get a divorce is often a difficult one. After a person decides to take action to begin the divorce process, they may not fully realize the procedures they will need to follow, the requirements they will need to meet, and the restrictions that will apply to them. One issue that can sometimes catch spouses by surprise after they file for divorce is the automatic court orders (sometimes known as temporary restraining orders or TROs) that go into effect after filing a divorce petition. By understanding the restrictions that these orders will place on both spouses, a person can be prepared to properly address the financial issues involved in the end of their marriage.
Automatic Orders in New York Divorce Cases
Under New York's Domestic Relations Law § 236, Part B, Section 2, certain types of automatic orders go into effect after a spouse files a petition for divorce and the petition is served to the other spouse. These orders include:
A prohibition on selling, transferring, or concealing property – Neither spouse is allowed to dispose of any property they own jointly or separately, including by selling assets, transferring them into the control of other parties, or hiding them from their spouse so that certain items will not be included in the equitable distribution of marital property. Applicable property may include personal belongings, real estate, financial accounts, stocks, or vehicles. Spouses are permitted to conduct transactions that are part of their usual course of business, and they can use the assets they own to pay standard household expenses and attorney's fees.

A prohibition on transferring or disposing of retirement accounts – Spouses cannot transfer, withdraw, encumber, or otherwise dispose of funds, stocks, or other assets held in 401(k) accounts, IRAs, or other pension or retirement plans. They also cannot request the payment of retirement benefits or other annuity payments without the written consent of the other spouse or a court order. However, a person who is already receiving retirement benefits may continue to do so during the divorce process.

A restriction on obtaining new debts – Spouses cannot incur unreasonable debts, including by borrowing against a home equity line of credit secured by their family home, encumbering any other assets they own, or making excessive charges to credit cards for purposes other than paying household expenses or attorney's fees.

A requirement to maintain insurance coverage – Spouses are prohibited from making changes to health insurance plans that would remove the other spouse or the couple's children from medical or dental insurance coverage.

A prohibition against changing insurance policies – Spouses cannot change the beneficiaries of any life insurance policies, and they must maintain all life insurance, auto insurance, and homeowner's or renter's insurance policies.
These orders are meant to ensure that both spouses will have the necessary financial resources during the divorce process and that they will be able to make the right decisions about how they will divide their property and address other financial matters. A couple's divorce settlement will determine how different issues will be handled once the couple's marriage has ended, including who will own different assets, who will be responsible for paying different debts, and how insurance coverage for the parties and their children will be handled going forward.
Contact Our Rockland County Divorce Petition Attorney
At Law Offices of Robert S. Lewis, P.C., we can help you understand how automatic orders will affect you after you or your spouse file for divorce, and we can work with you to address the various financial issues that will need to be resolved in order to legally dissolve your marriage. To get the legal help and representation you need, contact our Hudson Valley divorce lawyer at 845-358-7100 and arrange a free consultation today.
Source:
https://www.nysenate.gov/legislation/laws/DOM/236